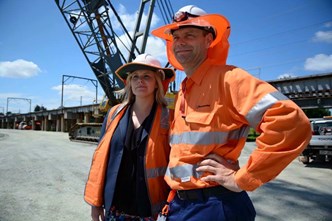 Nikki believes that transport is a lifestyle and economic concern and that is why she's has fought for congestion busting projects since being elected.
There is a range of projects now underway to reduce congestion pressures on Pine Rivers, these include:
Gateway Motorway upgrade to 6 lanes at Nudgee
Petrie roundabout upgrade
Removal of the roundabout and 2 set of traffic lights at Gympie Rd/Dixon St
Eatons Crossing Rd and Samford-Dayboro Rd safety upgrades
Intersection upgrade at Kremzow and South Pine Rd
Nikki also secured the Strathpine Train Station accessibility upgrade and supports Cross River Rail which will take up to 8 minutes off of travel time to the city. Cross River Rail will provide an extra 5,400 seats, trains departing every 6 minutes and take 18,500 car trips off the road each day.
Also, this year, for the first time in a long time, train and bus fares were reduced saving daily commuters in Pine Rivers around $900 a year.
The Gateway Motor Way North is a major artery for Pine Rivers commuters with some 83 000 vehicles using it each day. An upgrade to six lanes between Nudgee and Bracken Ridge is providing 1000 construction jobs and is expected to be completed late 2018.
Nikki has delivered local rail infrastructure upgrades. To connect the Redcliffe Peninsular line a 310-metre quad-track rail bridge has been completed across the North Pine River, to deliver extra service capacity on our rail network. More than 650 train services now travel to and from Moreton Bay each week. It replaced an 80-year-old bridge- a commemorative section was donated to the Pine Rivers Heritage Museum for residents to appreciate. In addition, more than $20 million dollars has been invested in the upgrade of the South Pine and Tributary Creek rail bridges. The straightening of these tracks means faster commutes for passengers.
So much has been happening to improve our local transport system but the work is far from done. Nikki is inviting contributions from members of the public through her transport survey: