Fairer Fairs mean real cost of living reductions for commuters. This is the biggest overhaul in public transport fees in over a decade. Nikki is committed to seeing less cars on the road and less congestion- that's why we now have fewer zones, cheaper fares, a longer off peak period, free travel for kids on weekends, senior and pensioner incentives and concession cards for job and asylum seekers to name a few. A commuter travelling from Strathpine Station to the CBD will be saving just under $900 a year.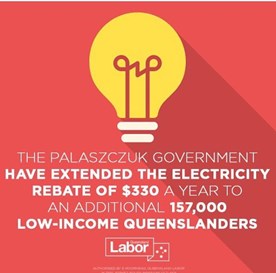 Under the Palaszczuk Government the Electricity Rebate has been extended to an additional 157 000 low income Queenslanders who will save $330 a year on their energy bills. Nikki know that every dollar counts and working families, seniors and veterans will be able to get the support they need to make ends meet. 
Nikki relied on the first home owners grant to buy her first home locally in Bray Park and she is committed to seeing Queenslanders realise their dream of owning their first home too. That's why she's proud to be part of a government that has seen the Queensland First Home Owners Grant increases to $20000.